Can Patients With Kidney Disease Eat Green Beans
2015-06-25 09:21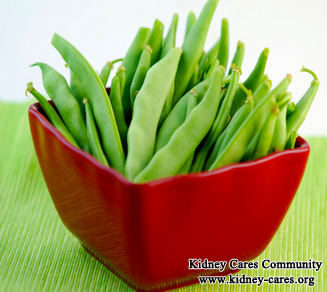 Can kidney disease patients eat green beans? There is a strict limitation of diet on kidney disease. For example, patients should eat light food and avoid spicy foods. Well, how about green beans?
As for green beans, kidney disease patients had better avoid them or at least eat less. Because bean products contain abundant protein while kidneys have been damaged and protein come out into urine. In such a condition, if you still consume much protein, this will worsen kidney burden and then more protein will leak into urine. Beans and bean products are dietary taboos for kidney disease especially for end stage renal disease (ESRD) patients.
Of course, moderate consumption of green beans also brings some health benefits for kidney disease patients, such as:
Low sodium and high potassium present in the green beans can help control high blood pressure.
Green beans contain carotenoid and flavonoid which have strong anti-inflammation properties. Kidney disease results from inflammation in the kidney so eating green beans can benefit kidney disease patients.
Green beans help stimulate a regular urine flow which in turn helps the body to remove toxins from the body.
Vitamin C boosts immune system so as to fight against most diseases including kidney disease. Vitamin C also lowers bad cholesterol in the body, regulate high blood pressure, prevent stroke and heart disease.
In addition to paying attention to diet, kidney disease patients also need to take treatment to repair kidney damage and improve renal function. Only in this way can patients have a high life quality. If you want to know further information, you can leave us a message below or send email to kidneycares@hotmail.com. We will reply you as soon as possible.