Is Star Fruit Bad For Our Kidneys
2015-05-19 02:01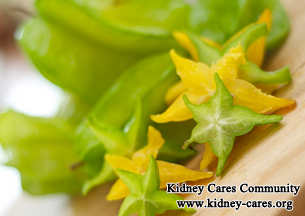 Is star fruit bad for our kidneys? Most of us have heard that star fruit is bad for the kidneys and should be avoided. Is this true?
If you have no kidney problems, you can eat all the star fruit you want and it has no effect on healthy kidneys. But if your kidney function is impaired, eating star fruit can be very dangerous, even deadly. Star fruits may lead to clinical symptoms for kidney disease patients like hiccup, nausea, insomnia, mental confusion and agitation. These symptoms are more likely to be associated with death.
Does star fruit cause kidney problems?
No. Star fruit intoxication only occurred if some degree of kidney failure already existed. For most of those affected, kidney decline is extensive enough that they were being treated by blood dialysis, although in some cases kidney problems has not reached that severity. There is no evidence of any problem for people with normal kidney function.
What substances in star fruit causes kidney problem?
Star fruits contain high levels of oxalic acid. Weakened kidneys can be damaged if high levels of oxalate accumulate in the organ. But another toxin in star fruit is also problematic since common foods such as spinach contain even greater levels of oxalic acid and do not seem to be associated with severe problem. In addition, star fruit also contains a substance toxic to nerves. People with healthy kidneys clear this toxin from the blood quickly and experience no problem. Without efficient kidney function, the combined effect of oxalate and a neurotoxin may deliver a double whammy.
As little as one half of a fruit and less than eight ounces of star fruit juice has caused serious symptoms. One person died from eating just one fruit. Therefore, kidney disease patients should avoid eating star fruit. If you are a person with healthy kidneys, you can eat all the star fruit you want.
Our Treatment Effect
High creatinine level is dangerous to a kidney patient
Move the mouse to enlarge the picture
If you also want to reduce your high creatinine level, please look at this patient's report. When he was just hospitalized in our hospital on Dec 11, 2018,
His creatinine:1028umol/L,
urea: 39.7mmol/L
UA : 513umol/L
After a period of our treatment,
his creatinine:331umol/L, urea:16.1mmol/L
UA :325umol/L on Jan 5, 2019.
His condition was getting better and better. You can also get better.
For a CKD patient, you can choose Chinese medicine treatments to control your condition. your creatinine level can be reduced radically, symptoms can be alleviated and more importantly, your renal function will be improved. In this way, you can stay away from end stage kidney disease and avoid dialysis.