Can Renal Patients Eat Raisins
2015-05-18 08:23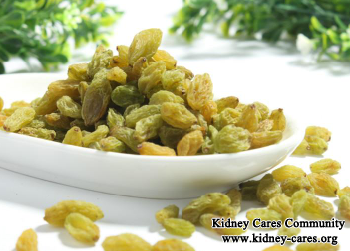 Dried big grapes are also known as raisins. Raisins are natural source of energy, minerals, electrolyte and vitamins, dietary fiber, poly phenolic anti-oxidants. The health benefits of raisins contain relief from acidosis, constipation, anemia and sexual weakness and fever. Generally speaking, renal disease patients can eat raisins.
Raisins contribute to kidney disease from the following aspects:
1. Alleviate constipation
Constipation is a common complication of kidney disease. A constipation patient should consume dry raisins and fennel seed daily before going to sleep. Raisins, the dried from absorbs water which helps to give relief in constipation.
2. Help against anemia
Raisins have a good amount of iron as well as B complex vitamins in them which help to treat anemia. The copper present in raisins also helps in the production of red blood cells. From this aspect, kidney disease patients can eat raisins.
3. Prevent infection
Infection is a dangerous factor for kidney disease people because it may worse kidney disease or cause relapse. Thus, it is of great importance to prevent infection. Raisins have a substance called polyphenolic phytonutrients which is well known as an anti-inflammatory anti-oxidant. It helps lower the risk of fever and kills the bacteria. Therefore, having a few raisins a day can keep you safe from cold and other such infections.
4. Good for heart
Heart disease is a major cause of death in kidney disease. To reduce the mortality rate, raisin is such a good food for kidney disease patients. Polyphenol and fiber helps in lowering LDL cholesterol. Raisin contains resveratrol which restricts the activity of angiotensin, a hormone which can shrink blood vessels. It also increases the production of nitric oxide, which is able to relax blood vessels.
From the above, we can see eating raisins would not make your kidneys get worse even if you were a kidney patient. However, raisins could easily aggravate regulatory disorders caused by advanced kidney disease, which is why kidney patients with high potassium and phosphorus levels should avoid them.
Our Treatment Effect
High creatinine level is dangerous to a kidney patient
Move the mouse to enlarge the picture
If you also want to reduce your high creatinine level, please look at this patient's report. When he was just hospitalized in our hospital on Dec 11, 2018,
His creatinine:1028umol/L,
urea: 39.7mmol/L
UA : 513umol/L
After a period of our treatment,
his creatinine:331umol/L, urea:16.1mmol/L
UA :325umol/L on Jan 5, 2019.
His condition was getting better and better. You can also get better.
For a CKD patient, you can choose Chinese medicine treatments to control your condition. your creatinine level can be reduced radically, symptoms can be alleviated and more importantly, your renal function will be improved. In this way, you can stay away from end stage kidney disease and avoid dialysis.