What Food to Eat in Boosting Immune System when Having Kidney Problem
2015-05-14 09:22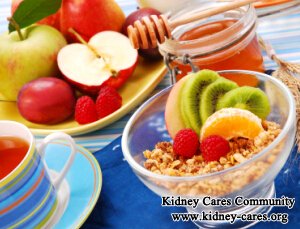 With poor immune system, it is likely for you to get various diseases, including kidney disease. And with kidney disease, your immune system will be impaired further. This is a vicious circle. What food to eat in boosting immune system when having kidney problem? Go on reading to learn more information.
Protein
When bacteria and virus enter body, your immune system will be stimulated to make antibodies to fight against them. Protein is an important component of antibodies. With kidney problem, massive protein leaks into urine so that there is not enough protein in the blood to make antibodies. Therefore, you should supplement moderate protein to satisfy the need of body. In order not to put extra stress on kidneys, you should choose high quality protein to eat, such as egg white, lean meat, fish, milk, etc.
Vitamins
Vitamins such as vitamin C and vitamin E also play an important role in immune system, because they can neutralize the free radicals in the blood and stimulate the production of white blood cells to resist bacteria and virus. Fresh vegetables and fruits such as bell peppers and berries are good source of vitamins, so you should add them into your diet.
To boost immune system, you should also pay attention the intake of other nutrients, such as trace elements like zinc and calory. A balanced diet can help you stimulate the production of immune cells so as to protect you from various diseases.
Other ways to help you boost immune system
Besides diet, you should do exercise regularly, keep a good mood, have a good rest, etc. You should also repair the damaged kidneys. Traditional Chinese Medicine (TCM) treatment such as Micro-Chinese Medicine Osmotherapy can help you set up a good blood environment for kidney self-healing and provide the damaged kidneys with essential nutrients to speed up recovery. What is the important, it can make your whole body balanced and harmonious so as to reduce the chance of getting diseases.
What food to eat in boosting immune system when having kidney problem? The above information is very general. If you would like a detailed treatment plan for kidney problem and immune system, please leave a message below or send emails to kidneycares@hotmail.com.