Are Red Bell Peppers Safe for People with Kidney Disease
2015-05-13 16:32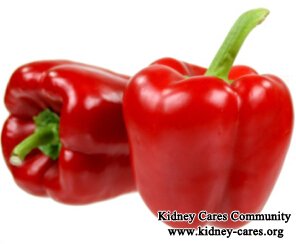 Red bell pepper is a kind of vegetable common to see in the daily. Because of its various nutrients, it is favored by more and more people. Are red bell peppers safe for people with kidney disease?
Red bell peppers are rich in vitamin C.
With kidney disease, it is likely for you to suffer from vitamin deficiency. Red bell peppers contain almost 300 percent of your daily vitamin C intake. Vitamin C can power your immune system to fight against diseases. It can also help your body absorb iron so as to improve anemia, which is a common complication of kidney disease.
Red bell peppers are a good source of vitamin B6.
Some kidney patients are lack in vitamin B6. Vitamin B6 plays an important role in maintaining the nervous system and renewing cells. Red bell peppers contain rich vitamin B6.
Red bell peppers are also high in minerals.
Our body also needs various minerals to maintain its normal function. It provides manganese and calcium, which helps develop strong bones and connective tissues to prevent renal bone disease. It can also give you iron, phosphorus, potassium, zinc, etc. But when your blood potassium or phosphorus level is high, you should limit the intake of red bell peppers.
Are red bell peppers safe for people with kidney disease? Generally speaking, red bell peppers are safe for people with kidney disease, but you should remember that too much is as bad as too little. Besides, diet should go together with medical treatment. Only in this way can you have a good control of your kidney disease. When your kidney disease is under controlled, there are less diet restrictions. For more information about kidney disease diet and treatment, please leave a message below or send emails to kidneycares@hotmail.com.
Leave Message
Leave your problems and contact information to us. Our nephrologist will contact you and give you professional treatment advice in 24 hours.