Is Goji Berry Juice Ok For Kidney Transplant Patients
2015-04-29 15:14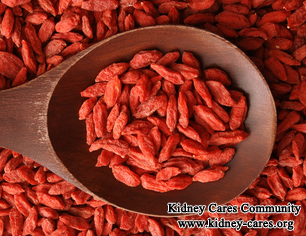 Goji berries are considered as a super food because of the large quantity of antioxidants and many health benefits they offer. After kidney transplant, people should pay attention to their diet. In this condition, some patients consult our online doctor about if it is ok to drink Goji berry Juice after kidney transplant.
As we all know, after kidney transplantation, patients need to take immunosuppressive agent to prevent rejection like Ciclosporin and Cellcept. These medications have better effect to prevent and inhibit rejection. At the same time, immunosuppressive agents improve the survival rate of kidney transplantation. However, eating tonic after transplantation will increase your body's immunity, which will interfere with the effect of immunosuppressant and even induce rejection reaction. This action is very dangerous. Therefore, foods and medications which can improve immunity should be avoided, so kidney transplantation patients had better not drink goji berry juice.
If kidney disease patients do not take kidney transplantation, they can drink goji berry juice properly. Health benefits of goji berry include diabetes, high blood pressure, fever and age-related eye problems. What is more, rich vitamin A in goji can improve immune function, night vision, prevent heart disease, relieve headache, depression, dizziness and insomnia.
From the above, we can see if you are a kidney transplant patient, you had better not drink goji berry juice. If you have any question, just feel free to consult us online or leave a message to kidneycares@hotmail.com. We are glad to help you.