Is Horseradish Hard on the Kidney
2015-04-25 09:11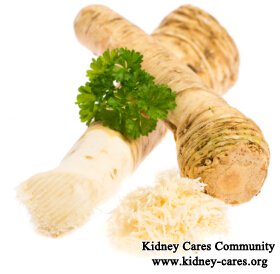 Kidney is a blood purification organ. When you get kidney disease, your kidneys can not work properly to remove waste products from the blood, so you should pay attention to what you drink and eat in case that they put extra stress on your kidneys to speed up kidney failure. Horseradish is a powerful plant that is connected to a a wide variety of health benefits. Is horseradish hard on the kidney? Go on reading to learn more information. If you still have any other questions, please contact online doctor.
Generally speaking, when you are in the early stage of kidney disease, your kidneys can still manage the normal function of your body, you can eat moderate horseradish, because it can boost immune system to help you fight against flu, the common cold and other bacterial and viral infections. It can also help the body maintain a healthy bladder by preventing toxin accumulation and helping to flush out inflammatory agents. Besides, it can prevent cancer, soothe muscle pain and joint discomfort, stimulate the appetite, help clear the sinuses and ease sinus discomfort, etc.
But with the progression of kidney disease, more and more complications appear. If you have hypothyroidism, gastrointestinal conditions, stomach or intestinal ulcers, or inflammatory bowel disease, you should avoid horseradish so as not to exacerbate existing conditions.
Is horseradish hard on the kidneys? It depends on your medical condition. If you want to add it into your treatment, you had better talk with your doctor. You can also send your medical test report to kidneycares@hotmail.com. After analyzing your case, we will help you make a wise decision. Do not use it without the instruction of doctor. Proper diet is good for you, but it is not enough. A good diet should go together with medical treatment. The combination can help you achieve a good therapeutic effect.