Can You Stop Kidney Disease From Progressing Through Special Diet
2015-04-23 11:38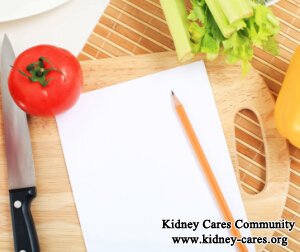 For kidney disease patients, they should not only pay attention to treatment, but also to their diet. According to Traditional Chinese Medicine, diet is the best medicine for diseases, especially chronic disease. Can you stop kidney disease from progressing through special diet? Not a few renal patients have such a doubt. After reading this article, you will find the answer.
Diet can not help you stop kidney disease from progressing.
Diet provides essential nutrients for your body. Advanced and balanced nutrients can strengthen the metabolism of cells so that cells can get immense energy. They can also activate the healthy immune genes in the cells so as to increase immunocompetence and multiply immune cells. And then your body can get powerful immune system to help you fight against the disease. But diet can not take the place of medicines, because it usually takes effect slowly. In the long run, diet can help you slow down the progression to kidney failure.
Renal patients should follow renal-friendly diet.
What you should drink and eat depends on your medical condition. Generally speaking, you should limit the intake of protein if your kidney function is impaired and you have proteinuria. You should also reduce the intake of sodium if you have swelling and high blood pressure. It is likely for kidney patients to suffer from vitamin deficiency, so you should supplement moderate vitamins. Fresh vegetables and fruits are good source of vitamins. In addition, you should pay attention to the intake of potassium, phosphorus and some other trace elements.
Can you stop kidney disease from progressing through special diet? No. Diet is just an adjunctive treatment of kidney disease. If you want to stop the its progression, you should find a suitable treatment plan for your kidney disease. For more information, please contact online doctor or leave a message below.