How Bad Is Alcohol Consumption For A Person With Stage 3 Kidney Disease
2015-04-15 09:24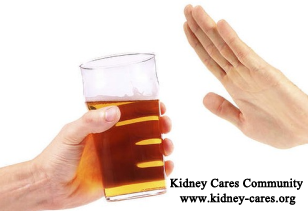 Some kidney disease patients have their own living habits and most of them like drinking. They know they should drink less or avoid alcohol, but sometimes they cannot control themselves. Can stage 3 chronic kidney disease (CKD) patients drink alcohol?
Stage 3 CKD patients should drink alcohol moderately otherwise it will cause adverse effects.
Drinking alcohol for a long time can lead to disorder of blood platelet, gastrointestinal malabsorption. Nutrient deficiency will lead to low utilization rate of vitamin B1, vitamin B2 and folic acid and increase the excretion of vitamin B6. Besides, hyperkalemia and atherosclerosis can also be triggered. Drinking also affects your kidneys. Alcohol will affect the balance of nitrogen, increase the breakdown of protein and increase the urine nitrogen level amount in blood. This will burden your kidneys. Kidney disease patients or kidney dysfunction patients should not drink alcohol.
However, a little alcohol, especially red wine might help kidneys stay healthy. Less than a glass a day may also help the heart in those who already have kidney disease. The researchers add that for those who already have kidney disease, which puts one at higher risk for cardiovascular problems, moderate wine drinking might help the heart. Moderate drinking is linked to heart benefits. What's more, drinking moderate amounts is linked with lower levels of protein in the urine. In those who have kidney disease, higher protein levels in the urine are linked with an increased risk of kidney disease.
Moderate alcohol consumption is key for stage 3 kidney disease patients. If you want to know how much you can drink, you can describe your medical condition to kidneycares@hotmail.com or leave a message below. We are here to help you.