Can A CKD Patient Eat Plum
2015-04-06 03:17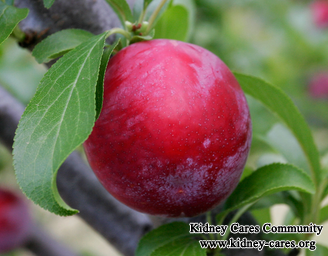 Plum is rich in dietary fiber that is effective in improving the digestive system and it also neutralize the harmful effects of free radicals and protects against the development of health conditions like heart disease, arthritis and cancer. Well, can a chronic kidney disease patient eat plum?
Plum health benefit for kidney disease
1. relieve constipation
Kidney disease patients often suffer from digestive system problems and constipation. The compounds, sorbitol and isatin found in plums help to regulate the functioning of the digestive system and relieve constipation.
2. prevent anemia
Plums have the ability to absorb iron in the body. Iron in plum is highly required for red blood cells formation. It improves blood circulation in the body and prevents anemia. Kidney disease patients with anemia are allowed to eat plum.
3. reduce the risk of type 2 diabetes
Diabetes is a leading cause of kidney disease. Plums rank quite low in glychemic index, so eating plum controls the blood sugar level and reduces the risk of developing type 2 diabetes. It is recommended that diabetic patients should incorporate plums in their diet as it will not worsen the situation and will keep them healthy.
4. enhance your immune system
Damaged kidneys will affect the immune system. Plums assist the body in making healthy tissues and strong immune system. It prevents cold and flu and is helpful to people who suffer from recurrent infections.
5. lower creatinine level
High creatinine level is a common complication of kidney disease. Plum also has diuretic property which can bring high creatinine level to some extent.
All in all, chronic kidney disease patients can eat plums. If you want to know more information of kidney disease, you can email to kidneycares@hotmail.com or leave a message below.