Are Macadamia Nuts Suitable for Kidney Patients
2015-03-29 08:57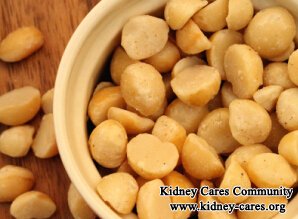 Macadamia nuts are not only sweet, delicious and flavorful, but also packed with notable health benefiting nutrients. Are macadamia nuts suitable for kidney patients? If you are a fan of macadamia nuts, the following information can give you an answer.
Health benefits of macadamia nuts
-Reduce your risk of heart disease
Heart disease is a common complication of kidney disease and it is also a common cause of death for kidney patients. Macadamia nuts are a good source of monounsaturated fats, which can lower your blood cholesterol level and help prevent stroke or heart attack.
-Improve anemia
Anemia is closely associated with kidney disease. The more severe your kidney disease, the worse your anemia. Macadamia nuts are loaded with rich iron and copper, which are essential elements to make red blood cells.
-Prevent bone disease
Kidney disease also affects your body to absorb calcium and manganese so as to lead to bone disease. Raw macadamia nuts supply your body with rich manganese so as to help you build and maintain strong bones.
Macadamia nuts can also help you promote digestion, relieve constipation, control weight, promote health of the nervous system, etc.
Precaution
Macadamia nuts are high in phosphorus. If your kidney function is severely damaged, you should limit the intake of macadamia nuts, because the damaged kidneys can not remove excessive phosphorus from the blood. In such case, it is likely for you to have high phosphorus level, which may lead to skin itch and some other problems. Besides, they may cause allergy.
Are macadamia nuts suitable for kidney patients? Not all kidney patients can eat macadamia nuts. If you would like to know more information, please leave your basic information below. After analyzing your case, we will reply you a personalized diet plan and treatment plan.
Our Treatment Effect
High creatinine level is dangerous to a kidney patient
Move the mouse to enlarge the picture
If you also want to reduce your high creatinine level, please look at this patient's report. When he was just hospitalized in our hospital on Dec 11, 2018,
His creatinine:1028umol/L,
urea: 39.7mmol/L
UA : 513umol/L
After a period of our treatment,
his creatinine:331umol/L, urea:16.1mmol/L
UA :325umol/L on Jan 5, 2019.
His condition was getting better and better. You can also get better.
For a CKD patient, you can choose Chinese medicine treatments to control your condition. your creatinine level can be reduced radically, symptoms can be alleviated and more importantly, your renal function will be improved. In this way, you can stay away from end stage kidney disease and avoid dialysis.