Is Fig Good For People With CKD
2015-03-29 02:45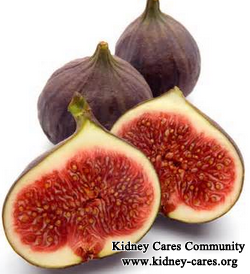 Fig is rich in fiber, water and minerals such as calcium, potassium and manganese. Chronic kidney disease (CKD) patients should follow a strict kidney diet so as to alleviate their symptoms. Well, is fig good for people with CKD patients?
Whether CKD patients can eat fig is complex. This is because CKD patients in some cases can consume fig with great health benefits while fig in other cases may also cause some side effects. Therefore, patients should be very careful before eating.
1. When CKD patients can eat fig?
Kidney disease can lead to some complications like diabetes, high blood pressure, constipation, weak bone and heart disease. Fig contributes to alleviate these complications to some extent. In this situation, kidney disease patients can eat fig.
Good for diabetes
Fig leaves reduce the amount of insulin needed by diabetic patients who have to take insulin injection. Fig is rich in potassium which is good to control blood sugar. Fig leaves have anti-diabetic properties.
Prevention of hypertension
High blood pressure is a leading cause of kidney disease and it is also a major complication of renal disease. It is very important to lower high blood pressure. Low potassium and high sodium level may lead to hypertension. Figs are high in potassium but low in sodium, so it helps to avoid hypertension.
Prevent heart disease
Heart disease is also a serious complication of kidney disease. Many patients die more from heart disease than kidney disease itself. Dried figs contain phenol, omega-3 and omega-6. These fatty acids reduce the risk of heart disease.
2. In some cases, fig is bad for kidney disease patients.
Kidney disease patients usually have high potassium level in blood. In diet, patients need to follow a low potassium diet and avoid high potassium food. Fig is a fruit with rich potassium, so in this case fig is bad for kidney disease people.
Whether fig is good for you or not depends on your own medical condition. If you still have any doubt, please consult our online doctor or leave a message to kidneycares@hotmail.com. We are glad to help you.
Our Treatment Effect
High creatinine level is dangerous to a kidney patient
Move the mouse to enlarge the picture
If you also want to reduce your high creatinine level, please look at this patient's report. When he was just hospitalized in our hospital on Dec 11, 2018,
His creatinine:1028umol/L,
urea: 39.7mmol/L
UA : 513umol/L
After a period of our treatment,
his creatinine:331umol/L, urea:16.1mmol/L
UA :325umol/L on Jan 5, 2019.
His condition was getting better and better. You can also get better.
For a CKD patient, you can choose Chinese medicine treatments to control your condition. your creatinine level can be reduced radically, symptoms can be alleviated and more importantly, your renal function will be improved. In this way, you can stay away from end stage kidney disease and avoid dialysis.