Is Chocolate Bad For Kidney Disease People
2015-03-24 09:55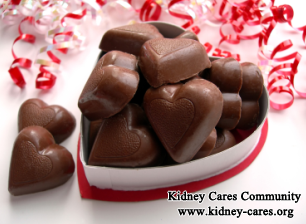 If you have kidney disease, your doctor might tell you to stay away from chocolate. This advice is regularly given to patients whose serum phosphorus levels are elevated. By limiting intake of high phosphorus foods, symptoms of renal insufficiency can be minimized.
Phosphorus level and kidney disease
Healthy kidneys excrete excess potassium and phosphorus into the urine. When kidneys become injured because of chronic disease, they are less able to perform these functions. Phosphorus levels begin to increase. If your serum phosphorus level is more than 5.5mg/Dl, your doctor may recommend that you stay away from chocolate and other high-phosphorus foods.
High Phosphorus in chocolate
Chocolate contains a lot of phosphorus and eating high phosphorus foods such as chocolate can lead to serious, long-term consequences if you have kidney disease. Phosphorus and calcium often work together, each substance relying on the kidneys to keep it in balance with the other. However, kidney disease may disturb this balance, causing low calcium and high phosphorus. Patients are easy to get bone diseases such as bone pain, bone fracture and osteoporosis.
What foods are high in phosphorus level?
The main food sources are the protein food groups of meat and milk. A meal plan that provides adequate amounts of calcium and protein also provides an adequate amount of phosphorus. Besides, seeds, cheese, fish, nuts, pork, shellfish are also rich in phosphorus. Kidney disease patients should be careful about these foods.
Kidney disease patients had better not eat foods with high phosphorus. If you have any question, just feel free to consult our online doctor or leave a message below. We will reply you as soon as possible.