Are Red Bell Peppers Good For Kidneys
2015-03-18 01:56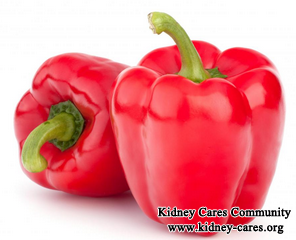 Are red bell peppers good for kidneys? Red bell peppers are one of the exotic vegetables that are available in the market and have loads of vitamins, minerals and antioxidants in them. Besides, they are low in potassium which is a concern for kidney health and they are packed with vitamin A, C, B6 as well as folic acid and fiber. Red bell peppers can be added to kidney diet.
Red bell peppers have many health benefits for kidneys:
1. control diabetes
Diabetes is one leading cause of kidney disease and it is also a major complication. It should be controlled timely to avoid further kidney damage. The dietary fiber, the nutrients, the vitamins, the minerals and the antioxidants in red bell peppers help control blood sugar levels in the body and prevent them from spiking up. This helps in good control over diabetes.
2. provide vitamin C
People should have a strong immunity to fight against bacteria and virus. Vitamin C is important in keeping the immune system strong and it is also good for skin.
3. prevent cardiovascular disease
Red bell peppers can increase good cholesterols in blood, which is good for blood vessels, improving arteriosclerosis and various cardiovascular diseases.
4. promote metabolism
The pepper alkali can promote the metabolism of fat, which can prevent the deposition of fat so as to lose weight and prevent illnesses.
Generally speaking, red bell peppers are good for kidney disease patients. However, it does not mean renal patients can eat red bell peppers without limitation. If you want to know more information about kidney diet, you can leave a message to kidneycares@hotmail.com or consult our online doctor directly. We will reply you as soon as possible.