Is Cola Ok For Kidney Disease Patients
2015-02-10 11:01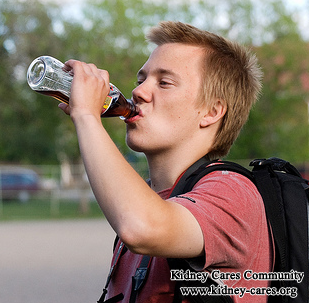 Is cola ok for kidney disease patients? We know kidney disease patients should pay attention to their diet and drinks. Here we will tell you whether patients with renal disease can drink cola.
Carbonated beverage consumption has been linked with diabetes, hypertension, and kidney stones, all risk factors for chronic kidney disease. Cola beverages, in particular, contain phosphoric acid and have been associated with urinary changes that promote kidney stones. Overall, kidney disease patients had better not drink cola.
Cola and kidney disease
Cola is rich in phosphorus
For healthy people, excess phosphorus from cola can be excreted by the kidneys. While unhealthy kidneys are no longer able to remove phosphorus from the blood and get rid of excess in urine, high levels of phosphorus is a problem for people with stage 4 and 5 kidney disease, especially stage 5. High phosphorus in blood can cause bone and heart problems, low blood calcium, bone pain, itching, weaken bones and calcification or hardening of tissues. Therefore, kidney disease had better avoid cola and other phosphorus rich foods or drinks.
Cola loaded with added sugar
Cola is loaded with added sugar, which is not a benefit to your health. Cola is a major contributor to weight gain in children and adults. Weight gain leads to more serious health complications such as type 2 diabetes, heart attack and stroke. All these are risk factors for kidney disease.
Therefore, patients with kidney disease are not suggested to drink cola. They should follow a diet low in sodium, phosphorus and potassium. If you need more information about kidney diet, you can leave a message below or consult our online doctor directly.