Can Drink Any Wine While Have Kidney Disease
2015-02-08 02:29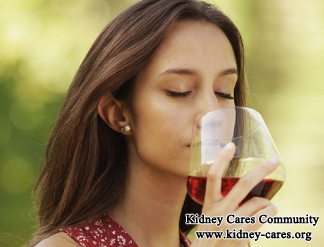 Kidney disease patients want to know what they can eat or drink very much. As for drinking lovers, they are eager to know whether they can drink or not. Well, can you drink any wine while have kidney disease. In this article, you can find the answer.
Obviously you can, but it is not a good idea. Alcohol will put stresses on the kidneys by causing dehydration, which is hard even on healthy kidneys. Besides, alcohol may also interfere with antibiotics by causing them to move through the system too rapidly. You should not drink one sip until you get an OK from your doctor. Alcohol really has interaction with medications-some very important medications that you may be taking, so one of the main reasons to talk to your doctor is because alcohol may interact with one of your medications. Alcohol can also increase urination through the effect it has on your anti-diuretic hormone and that in turn concentrates your blood and increases the levels of calcium, sodium, phosphorus and potassium in your blood. It directly affects this hormone, so you will urinate within 20 minutes of drinking. Be cautious. You should consult your doctor whether alcohol will affect your medications.
Drinking any alcohol is incredibly dangerous if you have any kidney problems. But we also know moderation alcohol intake can be helpful for the body health, so do kidney disease patients. That is to say, moderation is key. Yes, you can have alcohol with both pre-dialysis and disease kidney disease but you have to make sure you are drinking in moderation. If you do not know how much you can drink, talk to your doctor about it or consult our online doctor directly.