What Are The 3 Best Foods For Chronic Kidney Disease
2015-02-03 14:42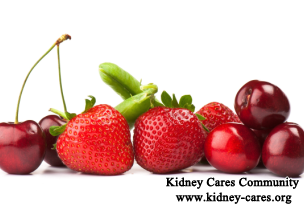 What are 3 beat foods for chronic kidney disease (CKD)? If you struggling from CKD, there are three excellent food sources that you need to know. These are food sources that will help bring your kidneys back to life if they are currently struggling. So let's take a look at these three food items now so that you can put them in your diet right away.
First are berries.
This is an excellent food source that will truly help out your kidneys. Cranberries are not good for kidney disease sufferers because they are high in potassium, phosphorus and sodium, so they need to be avoided. Blueberries are excellent for your kidneys because they are filled with antioxidants, manganese and vitamin C. besides, raspberries are also excellent due to the anthocyanins and phytonutrients.
Second are cherries.
The reason why cherries are good for kidney disease sufferers is because they contain phytochemicals that are effective in lowering your cholesterol levels. Since cholesterol can become a major problem for people with kidney disease. So you can eat cherries to help improve the overall health of your kidneys.
Third is garlic.
This is a great food that can help your kidneys out tremendously, and it is also an excellent food for the health of your heart which is also extremely important. Garlic has been known to lower cholesterol levels as well. It is a powerful food source that can really work wonders on the human body.
Although diet cannot bring your kidneys back to normal, this dos not have to be a life sentence as long as you begin to start taking care of yourself now to preserve what's left of the health of your kidneys. If you have any question, please feel free to consult our doctor online or leave us a message below.