5 Amazingly Foods Help Cleanse Kidneys
2015-01-29 06:49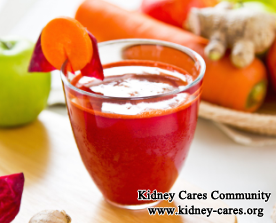 The kidneys are one of our most vital organs to keep our body healthy and toxin-free. However, when kidneys are damaged, we get exposed to more toxic compounds than our kidneys can handle. So if you are feeling tired or moody all the time, having frequent bladder issues, experience skin problems, gaining unexplainable weight, or feeling pain in your kidneys, now it is the time to give your kidneys the rest and peace they deserve with these 5 kidney juice cleanse foods.
1. water-cucumber flush
Waters and cucumbers are excellent foods to keep you dehydrated. They are low in calories and aid your liver and kidneys to filter and eliminate ammonia and other waste materials. You can enjoy Watermelon-cucumber delicious juice.
2. carrot-cucumber-beet cleanse
Carrots, beets and cucumbers are filled with health promoting nutrients. Carrots and cucumbers are excellent to eliminate excess uric acid, which can cause kidney stones. Together with the powerful cleansing properties of beets, this juice will help your body to remove more wastes materials. Carrot-cucumber-beet juice is made up with 2 large carrots, 1 large cucumber and 1/2 beet.
3. cranberry-apple cider vinegar cleanse
Cranberries are able to help your body to eliminate bacteria and toxins from your kidneys, and the apple cider vinegar will prevent or help dissolve small kidney stones. Blend 1/4 cup unsweetened cranberry juice and 2 tablespoon raw apple cider vinegar and dilute with plain water to taste.
4. purple cabbage-radish-celery juice cleanse
1 cup purple cabbage, 1 rib celery and 1 cup radish is created to detoxify liver, gallbladder and kidneys. This juice works great to protect your body from infections and kidney stones.
5. super kidney juice cleanse
This juice combines the superpowers of parsley with other kidney cleansing or supporting foods such as carrots, cucumbers and beets. This super juice contains 1 large carrot, 1 stick celery, 1/2 medium beetroot, 1/2 small cucumber, juice of 1/2 lemon or 1 lime, 0.5 oz parsley.
If you have sugar issues or have underlying kidney tissues, make sure to consult your doctor or our online doctor first before trying these delicious and cleansing juice.