Is Beetroot Juice Good for Kidney Patients
2015-01-24 09:30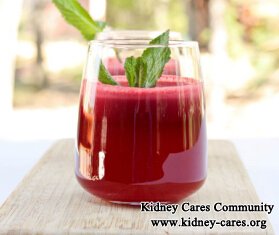 When referring to beetroot, many people do not feel strange to it. But do you know its various health benefits? Is beetroot juice good for kidney patients? Go on reading, let's learn more information about it.
Beetroot helps you control blood pressure.
High blood pressure is a common complication of kidney disease. It does not only cause further damage to the kidneys, but also increases your risk of heart failure. Besides medications, you can drink moderate beetroot juice. One study found that it is helpful to lower blood pressure.
Beetroot helps you cleanse the body.
Kidney is a blood detoxification organ. When kidney disease affects their ability to cleanse waste, waste products build up in the blood. But kidney is not the only organ to filter the waste. Liver is also one. Beetroots are a wonderful tonic for the liver, which works as a purifier for the blood.
Beetroot helps you manage blood sugar level.
Diabetes is a leading cause of kidney disease. Alpha-lipoic acid, an antioxidant in beetroot, has been shown to lower glucose levels, increase insulin sensitivity and prevent oxidative stress-induced changes so as to help you fight against diabetes.
Other health benefits of beetroot
It also helps lower cholesterol level, block blood clotting, improve anemia, etc. Those functions are all good for kidney patients.
Precaution
-Beetroots are a good source of nitrates, which may interact with certain medications. Besides, high levels of nitrate intake is not good for health.
-Drinking beetroot juice may make your urine and stools look reddish, which may make you difficult to tell whether you have blood urine or not.
Is beetroot juice good for kidney patients? It seems that it is very beneficial. But you should avoid too much intake in case that it increases the workload of kidneys. To get an accurate answer to the question, you had better consult a doctor.