Does Tea Support Renal Function
2015-01-21 07:11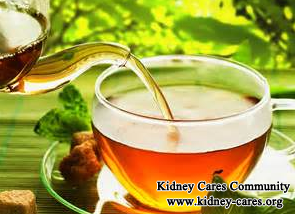 More and more people are suffering from some form of a kidney disorder that can be embarrassing, painful or even life threatening. For centuries, folk medicine practitioners have used green tea and black tea to treat a variety of conditions, including kidney disease. Well, how does tea help kidney disease patients?
Tea and diabetic kidney disease
If you have diabetes, you are at a higher risk for several health complications, including kidney failure. The researchers found that a cellular waste product caused by free radical damage was close to 150 percent greater in the green tea extracts that weren't received by the diabetic rats to those that did.
Tea and immunosuppressants
An animal study on rats found that giving rats green tea prevented kidney dysfunction after taking the type of immunosuppressant drugs a patient on organ transplant must take to avoid your body rejecting the new organ. In addition, green tea also improves several of your other markers for healthy kidney function, including creatinine levels, blood urea nitrogen, uric acid and excretion of glucose.
Tea and kidney stones
A kidney stone is an often painful, solid mass composed of tiny crystals that forms in your kidneys due to infection, dehydration or nutritional imbalances. The study shows that tea drinking decreases the risk for kidney stones by 8 percent.
Precaution
If you have kidney disease, you should avoid tea with caffeine such as Darjeeling, assam and other types of black tea. White and green tea can be drunk because they are low in caffeine.
Drinking proper tea can support your renal function. With kidney disease, you can consider drink some herbal tea such as nettle tea, dandelion root tea, alfalfa tea, java tea and corn-silk tea, which helps get your kidneys back to health. Besides, cranberry tea is beneficial, and it destroys bacteria and re-acidifies one's urine. Sage tea is also helpful in combating kidney problems. Whether tea boosts your renal function or not depends on which tea you drink. If you do not know which tea is good for kidney disease, you can contact our online doctor or leave a message below.