Is Chocolate Bad For People With Kidney Disease
2015-01-11 06:14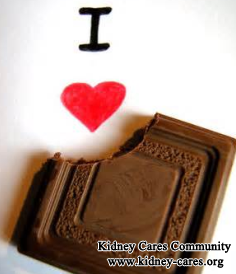 Is chocolate bad for people with kidney disease? If you have advanced kidney disease, your doctor may tell you to stay away from chocolate. This advice is regularly given to patients whose serum phosphorus levels are high. By limiting high phosphorus foods, symptoms of renal insufficiency can be minimized.
Why kidney disease patients should avoid high phosphorus foods?
Healthy kidneys are responsible for cleaning more than 200gallons of blood a day. Waste products such as creatinine and urea can be removed. Excess potassium and phosphorus are discharged into the urine. When kidneys are damaged because of chronic disease, they are less able to perform these functions. In such circumstance, phosphorus levels begin to creep up. If your serum phosphorus level is more than 5.5 mg/dL, you need to stay away from chocolate and other high-phosphorus foods.
Eating high phosphorus foods such as chocolate can trigger serious and long-term consequences if you have kidney disease. This is because high levels of phosphorus will pull calcium from bones. In addition to permanently weakening the bones and making you more vulnerable to fractures, the calcium can deposit in blood vessels, muscles and other areas.
It is not necessary to avoid chocolate if you have healthy kidneys or your phosphorus levels are normal. Following a low phosphorus diet will not slow down the progression of kidney disease. The key point for kidney disease patients is to repair kidney damage and improve kidney function, otherwise dialysis or kidney transplant will become the last choice.