What Oils Are Good for Kidney Patients
2015-01-08 08:56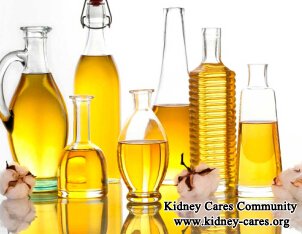 There are three sources of energy in body, namely protein, fat and carbohydrates. But for kidney patients, they are often required to restrict the intake of fat, because it raises cholesterol level so as to increase your risk of heart disease. Heart disease is a common cause of death for kidney patients. Oil is a great source of fat. What oils are good for kidney patients?
Generally speaking, kidney patients can eat unsaturated fat.
-This kind of fat can decrease cholesterol level and triglyceride level. It can also reduce blood viscosity and improve blood circulation. Moreover, it can maintain the normal physiological function of cells. In this way, it can help you reduce the risk of heart disease.
-This kind of fat is also high in omega-3 fatty acids. It can increase the anti-bacteria ability of white blood cells so as to boost your immune system. This fatty acid can also relieve inflammation so as to ease joint pain. Omega-3 fatty acids is also essential for optimal bone disease so as to prevent renal bone disease.
-If your kidney disease is caused by diabetes, omega-3 fatty acid intake improves insulin sensitivity so as to help you to manage blood sugar.
-Some oil is a good source of omega-6 fatty acids, which are essential fatty acids that our bodies need, but can't make.
Fish oil, flaxseed oil and soybean oil are packed with omega-3 fatty acids. Borage oil, blackcurrant seed oil, canola oil, corn oil, cottonseed oil, evening primrose oil, hemp oil and sunflower seed oil are loaded with omega-6 fatty acids. Therefore, you can add them into the diet.
Though those oils are beneficial, you should limit the their intake into daily intake. For more information about kidney disease diet, please contact online doctor or leave a message below.