Can People with Kidney Problems Eat Lobster
2015-01-01 08:04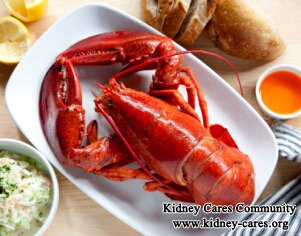 When your kidneys are healthy, you can enjoy the food you like, because they can remove the metabolic waste from the blood so as to keep you healthy. When your kidney function declines, you should pay attention to the food you take. Improper diet intake increases the workload of your kidneys and speed up kidney damage. Lobster is a classic delicacy. Can people with kidney problems eat lobster?
-People with kidney problems run a high risk of heart disease. Lobsters are rich in omega 3 fatty acids, which helps lower cholesterol level, inhibit inflammation, reduce the growth rate of atherosclerotic plaque and decrease the blood pressure so as to keep the heart healthy.
-Rich content of vitamin B12 helps the synthesis of hemoglobin so as to relieve anemia, which is a common complication of kidney disease.
-Phosphorus found in abundance in lobsters. Proper intake of phosphorus aids in the formation of bones, facilitates the rate of metabolism, enhances the functioning of kidneys and lessens joint pain. But if your blood phosphorus level is beyond normal range, you had better limit its intake, because too much phosphorus in blood makes your skin itch and bone weak.
-Lobsters contain rich potassium. In early stage of kidney disease, moderate potassium intake helps you control blood pressure and relieve edema, but in advanced stage, you should limit its intake, because too much potassium cause weak muscles, slow heart beat, and some other problems.
-Lobsters are also a good source of high quality protein, which can provide the essential amino acids for your body. When you have severe proteinuria, restrict its intake.
-Lobsters contains high sodium content as well, which retain water and raise blood pressure. If you have high blood pressure and swelling, restrict the intake of lobsters.
-If you are allergic to lobsters, you should avoid its intake.
From the above, we can see that whether people with kidney problems can eat lobster or not depends on their medical condition. If you would like to get an exact answer, please send your medical test report to kidneycares@hotmail.com. Our doctor will contact you later.