Are Eggplants Good For Someone Who Has Kidney Problem
2015-01-01 01:51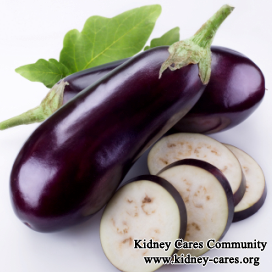 The eggplant is thought of as a vegetable but is actually a berry of the nightshade plant. It has several health advantages that will help safeguard the body from numerous health problems. We know kidney disease patients should follow a restrict diet. well, are eggplants good for people who has kidney disease?
People who eat eggplants usually get the following health benefits:
1. heart health
Studies have shown that eggplant is able to lower overall cholesterol in the body and help to improve blood flow. Eggplant is a powerful antibiotic to prevent oxidative stress to the cardiovascular system and thus reduce the risk of heart attack and heart disease. Besides, eggplant is a rich source of fiber, which is needed to maintain good cardiovascular health. Cardiovascular disease is a dangerous complication in kidney disease, and many people die from this. Therefore, kidney disease patients can eat eggplants.
2. control high blood pressure
High blood pressure is often associated with kidney disease. If left untreated, it will cause further kidney damage and speed up kidney disease into kidney failure. Eggplants are high in bioflavonoids, which are known to control blood pressure and relieve stress.
3. type 2 diabetes
Just like high blood pressure, diabetes is a leading cause of kidney disease. the abundance of fiber and carbohydrates in eggplant, control the absorption of glucose and decrease the blood glucose levels in type 2 diabetes patients. Phenols and low glycemic index in eggplants help to manage blood sugar levels, so eggplants are ideal food for diabetics.
4. support digestive system
Kidney disease patients usually have digestive problems, like poor appetite, constipation. Eggplants increase the appetite and help in digestion. The antioxidants and fiber regulate bowel movement.
5. low in sodium
Eggplants are almost sodium free which prevents high blood pressure and reduces the risk of heart disease, stroke and kidney disease.
Generally speaking, kidney disease patients can eat eggplants. Due to limited space here, we cannot list all the health benefits here. If you want to learn more information about kidney disease diet, you can leave a message to kidneycares@hotmail.com or consult our online doctor directly.