What to Eat to Improve Kidney Function
2014-12-27 08:13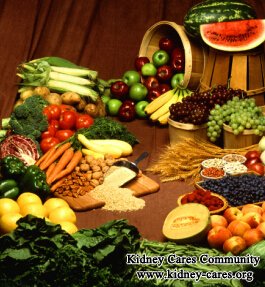 As its name indicates, CKD is a kind of chronic disease, a long-lasting condition that can be controlled but not cured. In the long run, medical treatment is not enough if you want to have a good control of the disease. According to Traditional Chinese Medicine (TCM) theory, food is the best medicine for disease. What to eat to improve kidney function?
High vitamin intake
CKD patients often have vitamin deficiency, which is associated with food restriction and metabolic disorder. Vitamins play an important role in maintaining the normal function of body. They can also neutralize the free radicals in the blood to prevent them from damaging your body so as to strengthen your immune system and help you fight against the disease. Fresh vegetables and fruits are good source of vitamins. Therefore, you should add them into your diet.
Black food
Black food is a tonic to kidney, for example, black rice, black bean, black sesame, black date, etc. Some of them can lower cholesterol and reduce blood pressure. Some of them can relieve anemia. Some can alleviate constipation. All in all, they are good for your kidneys.
Herbs
Some herbs can be used into the meal. For example, cinnamon is a common household spice. Regular cinnamon intake helps you lower blood sugar, enhance GFR and strengthen weak kidneys. Siberian ginseng can also be used together with cinnamon to revitalize the kidneys.
Other food good for kidneys
Millet, cowpea, weever, mulberry, chestnut, Chinese yam, goji berry, cordyceps sinensis and so on are all good for you. When you cook meal, you can add them.
Though those foods are good to improve kidney function, you should pay attention to the daily intake. Too much is as bad as too little. Contact online doctor, you will acquire more information about CKD treatment for free.