What Foods To Avoid With Kidney Lesion
2014-12-25 16:41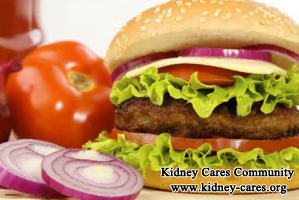 For patients suffering from kidney disease, one of the greatest challenges is to learn a new way of eating. A renal diet is planned to minimize the absence of well-functioning of kidneys. It means that you need to reduce the presence of the minerals that your kidney would normally excrete for you. Well, what foods need to be avoided with kidney lesion?
Foods to avoid
Three minerals you need to cut back on include salt or sodium, potassium, phosphorus.
1. Salt or sodium rich foods
The guideline on sodium intake is not to add salt to any food, and to stay away from salty foods such as smoked and processed meats, salty snacks like chips, pretzels and nuts, canned or frozen foods, which have a high sodium content, and bottled sauces. If you have any doubt, you can check the nutritional labels on any prepared foods to see whether its sodium content is high.
2. Potassium rich foods
People with kidney lesion should also include bananas, orange juice and cantaloupe, many beans, tomato products, milk and chocolate. The kidneys are responsible for helping to keep the correct amount of potassium in your body. It can be dangerous if your potassium level is too high. Too much potassium can make your heartbeat irregularly or even stop without warning.
3. Avoid eating too much protein
Protein is needed to maintain muscles, aid in building resistance to infections, and repair and replace body tissues. As your body breaks down protein foods, waste products called urea are formed. Because kidney function declines, urea builds up in the bloodstream. Eating too much protein may cause urea to pile up more quickly. This makes you feel sick. Less protein intake may help reduce your blood urea levels. Reducing protein intake should be monitored by your doctor and dietitian.
4. Fluid control
Kidneys are responsible for controlling the amount of fluid that leaves your body. If you have kidney disease, your kidneys may be unable to regulate the removal of fluid from your body and as a result you may need to avoid too much fluid intake. Too much fluid may cause swelling, shortness of breath or high blood pressure.
When following a special diet for kidney lesions, there are a number of foods and substances that should be avoided or limited. If you have any doubt, you can leave us a message to kidneycares@hotmail.com or consult our online doctor directly.