What Vegetables to Eat if You Have Kidney Disease
2014-12-22 03:53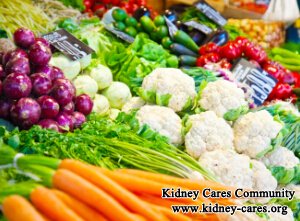 When diagnosed with kidney disease, patients are often required to eat more fresh vegetables and fruits rather than meat. What vegetables to eat if you have kidney disease? In this article, let's have a brief look at them.
General guideline on vegetables for kidney patients
Kidney patients do not have strict vegetable restrictions. But when you choose vegetables, you should pay attention to their content of vitamins, dietary fiber and other essential minerals. Vitamins such as vitamin C can neutralize free radicals in the body and reduce their damage to the body. They can also strengthen your immune system to help you fight against the disease. Dietary fiber helps lower cholesterol level, reduce blood sugar level, relieve constipation, etc. Minerals such as potassium, magnesium, iron, copper and so on are all good for you. Now let's see some specific vegetables, such as carrot, cabbage, onion, bell peppers, lettuce, parsley, cucumber, cauliflower, etc.
-Carrot intake helps you prevent infection, reduce the risk of heart disease, cleanse the body, revitalize the blood, keep blood pressure under control, etc.
-Cabbage has healing properties and cleansing property. It can also boost immune system, control blood pressure, regulate blood sugar, inhibit inflammation, etc.
There are so many vegetables in the world, it is impossible for us to list all them here. If you want to learn more, please contact online doctor.
Precautions
With the development of kidney disease, you should pay attention to their content of potassium, oxalic acid, phosphorus, etc. Because the damaged kidneys can not remove them from the blood timely. Too much of them cause many problems, such as heart disease, kidney stone, skin itch, etc.
What vegetables to eat if you have kidney disease? There is not an exact answer. If you can send your medical test report to kidneycares@hotmail.com, our doctors can help you make a personalized diet plan and treatment plan.