What Is The Effect Of Wheat Grass On Failed Kidneys
2014-12-09 02:47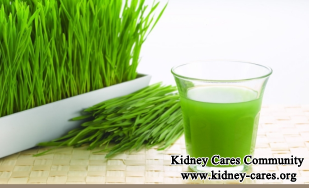 Wheat grass is known as a compensatory therapy for kidney disorder and many kidney disease people are drinking wheat grass juice for cleaning and nourishing their kidneys. Well, what benefits can wheat grass juice do on failed kidneys?
1. Various nutrients in wheat grass
Wheat grass contains many vitamins and more than 90 minerals. It is packed with vitamin A,C,E as well as B6 and B12, amino acids and enzymes. It can provide necessary nutrients for damaged kidneys. This helps supply a favorable environment for restoring kidneys.
2. Lower blood pressure
High blood pressure is always associated with diseased kidneys. Apart from some medications to lower blood pressure, natural therapy is also important. Thus, wheatgrass intake helps lower blood pressure by increasing red blood cell count. In turn, controlling blood pressure decreases the risk of heart disease and stroke and increases blood flow throughout the body, which boosts energy levels.
3. Heal body tissues
Wheatgrass can increase the production of red blood cells, and it can increase the production of hemoglobin, causing a subsequent increase in the flow of oxygen to all tissues in the body. This increased blood flow will promote faster metabolism and increased healing for body tissues that have been damaged.
4. Diabetes
Diabetes is a leading cause of kidney disease. To combat diabetes can reduce the risk of kidney problem to some extent. The ability to regulate blood sugar level makes this green juice a suitable drink for diabetes.
5. Anti-inflammation
Anti-inflammation can stop further kidney damage and slow down its progression into kidney failure. The high alkalinity property in wheatgrass makes it the perfect choice of food for people suffering inflammatory aliments.
Although wheatgrass has so many health benefits, it does not mean all people with failed kidneys can drink this juice. Wheatgrass is rich in sodium and phosphorus. If patients have swelling or high phosphorus level in blood, they should drink less or avoid drinking this juice. In summary, kidney disease patients should know whether they can drink wheatgrass according to their own health conditions. Or they can consult our online doctor.