Can I Eat Chickpeas if I Have Kidney Problems
2014-12-03 08:21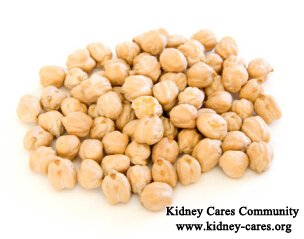 Chickpeas are common to see in India, Pakistan and western countries. They are often used in vegetables, salads, sources, bread, etc. Because of its health benefits, they are honored as "The King of Beans". Can I eat chickpeas if I have kidney problems? Kidney patients sometimes have a variety of concerns about their diet. Go on reading, you will find the answer you want.
Health benefits of chickpeas for kidney patients
-Control diabetes
Diabetes is the leading cause of kidney problems. Chickpeas can lower blood sugar level and reduce the complication of diabetes, because chromium in chickpeas can activate insulin and increase the number of insulin receptor and fiber and protein in chickpeas also helps stabilize blood sugar.
-Prevent bone disease
Bone disease is very common among kidney patients, because they can not absorb enough calcium to maintain the strength of bone. The good amount of calcium in chickpeas are good for bone health.
-Relieve anemia
Kidney problems are closely associated with anemia. Chickpeas are loaded with good iron. Iron is a component of hemoglobin. Thus eating chickpeas help you relieve anemia.
-Reduce the risk of heart failure
Heart failure is the most common cause of death for kidney patients. High cholesterol level increases your risk of heart failure as well. Chickpeas consumption helps lower bad cholesterol levels and they also support blood vessels' walls and blood. Besides, the alpha-linolenic acid and omega-3 fatty acids in chickpeas are also helpful in reducing the risk of heart disease.
Precaution
Chickpeas are great source of protein. When you have severe proteinuria, you had better limit its intake. Besides, if your phosphorus level is high, chickpea intake should also be limited as well, because it is high in phosphorus, which may make you have skin itch.
Different kidney patients have different medical condition. Whether you can eat chickpeas nor not depends on your medical condition. Therefore, you had better consult a doctor before you add them into the diet. If desired, please contact online doctor. It is our pleasure to help you.