What Is A Diet If Blood Urea Nitrogen Level Is 29.02mg/dl
2014-11-23 02:56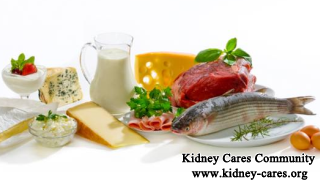 The normal test range of blood urea nitrogen (BUN) is 7-21mg/dl of blood. 29.02mg/dl BUN is higher than the normal range. The BUN test reveals important information about how well your kidneys are working. Therefore, if the BUN tests result is higher than normal range, it means patients have some kidney tissues. The doctor could recommend a diet to lower it.
Dietary tips for patients with high blood urea nitrogen level
1. Low protein diet
Patients with high blood urea nitrogen level should limit protein intake and eat relatively more high quality protein, including 50-70% animal protein with essential amino-acid. High vegetable protein should be limited strictly, such as beans, bean products and hard nuts.
2. Enough water and low salt diet
Patients with elevated blood urea nitrogen should drink more water to increase urine output so as to remove blood urea nitrogen from the body. If patients have edema, they should reduce the amount of water properly and control salt intake according to their own medical conditions.
3. Plenty of carbohydrate and fat
Patients can choose starchy food with low protein, such as potato, sweet potato and Chinese yam, etc. It is necessary for patients with low protein diet to have energy supplement. Patients can select food with rich sources of vitamin B1 and vitamin C.
Generally, a high blood urea nitrogen level means your kidneys are not working well. But elevated urea nitrogen can also be a result of:
Urinary tract obstruction
Congestive heart failure or recent heart attack
Dehydration, resulting from not drinking enough fluids or for other reasons
Certain medications, such as corticosteroids and some antibiotics
A high protein diet
Once you have a high blood urea nitrogen, you should not worry about it too much. The first thing you should do is to do check ups to find out the cause of your elevated blood urea nitrogen. And then take measurement to control them.