Is Chayote Good For Diabetes In CKD
2014-11-21 02:20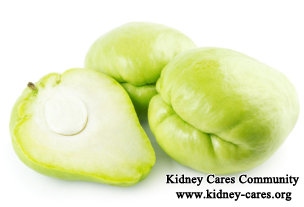 Raw chayote provides many vitamins and minerals that offer many health benefits. And diabetes patients can get some health benefits from chayote. How does chayote help diabetes patients?
Chayote and diabetes
A high fiber diet helps treat constipation and normalize bowel movement. In addition, fiber also help control blood sugar levels, especially helpful for diabetics.
As we all know, diabetes is one of the leading factors of kidney disease, so controlling blood sugar level is able to reduce the risk of kidney disease. More importantly, if you have had kidney disease, you can get other benefits from charote as below:
1. Reduce blood pressure
Potassium in chayote helps lower blood pressure levels.
2. Good for the heart
Chayote is rich in folate, magnesium and potassium which are necessary for heart health. Folate will decrease the homocysteine levels in blood and thereby reduces the risk of coronary heart disease and stroke. People with kidney disease experience more heart disease than those without kidney disease. So it is important for renal disease patients to protect their heart.
3. Anemia
Anemia is a common symptom of kidney disease. Chayote is full of vitamin B2 A and iron which is used by the body for the production of red blood cell and thereby increase hemoglobin levels. Chayote can alleviate anemia to some extent.
4. Prevent constipation
As we mentioned above, chayote is high in fiber, so people suffering from constipation should include chayote in their diet in order to promote bowel regularity. This fruit contains dietary fiber that prevents constipation and irritable bowel syndrome.
In summary, chayote is good for diabetes and kidney disease patients. However, not everyone can consume it. For example, if you have high potassium level in blood, you had better limit or avoid eating chayote so as to avoid irregular heartbeat and heart attack caused by too much potassium in body.