Are Nuts Good For Your Kidney Function
2014-11-19 02:48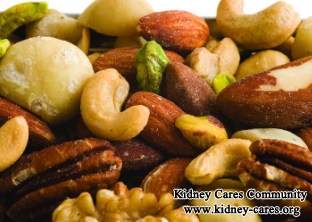 People with kidney disease experience more cardiovascular disease than those without kidney disease. Eating nuts helps your heart. In this light, nuts are good for kidney disease patients. The following will introduce you the details.
If you have heart disease, eating nuts instead of a less healthy snack can help you more easily follow a heart healthy diet. Nuts can lower the lower density lipoprotein (LDL or bad) cholesterol level in their blood. High LDL is one of the primary causes of heart disease.
Why nuts are good for heart healthy?
Nuts contain some of these heart-healthy substances:
1. Omega-3 fatty acids
Omega 3 fatty acids are rich in many nuts. Omega-3s are a healthy form of fatty acids that help your heart by preventing dangerous heart rhythms that can cause heart attack.
2. Fiber
Nuts contain fiber, which helps lower your cholesterol. Fiber is also good for preventing diabetes. Diabetes is a leading cause of kidney disease. Diabetes prevention is able to prevent further kidney damage. Therefore, nuts are good for kidney function.
3. Vitamin E
Vitamin E may be able to stop the development of plaques in your arteries, which can narrow them. Plaque in your arteries can cause chest pain, coronary artery disease or a heart attack.
4. L-arginine
Nuts are a source of l-arginine which is a substance that may help improve the health of your artery walls by making them more flexible and less prone to blood clots that can block blood flow.
Heart disease patients can eat nuts. From this aspect, kidney disease patients can also get some health benefits from nuts. However, it does not mean all kidney disease patients can eat nuts. For example, nuts contain more potassium and sodium. Kidney disease patients need to limit the intake of potassium and sodium.
If you have other questions about kidney disease or want to know more about renal diet, you can consult our online doctor or leave us a message to kidneycares@hotmail.com.