Is Kiwi Fruit Good For Kidney Problem Patients
2014-11-03 08:50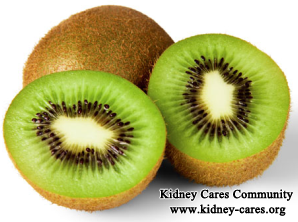 Kidney disease patients are very much concerned about what fruits they can eat and what they cannot. The kiwi is a small fruit that packs a wallop of nutrition. Well, whether kidney disease patients can eat kiwi fruit or not. Follow us to find the answer.
Kiwi fruit can be added to a renal diet and patients can get the following health benefits from the kiwi fruit:
1. Help manage blood pressure
High blood pressure is a major complication of kidney disease and it is necessary to manage it. The high level of potassium in kiwi helps manage blood pressure. Besides, high potassium is also useful for keeping our electrolytes in balance by counteracting the effects of sodium. However, if you have high potassium level in blood, you should not eat too much kiwi or limit kiwi intake. Otherwise it will cause other serious condition like irregular heartbeat, heart attack and muscle cramp as well as stroke, etc.
2. Boost your immunity
Rich vitamin C in kiwi together with other antioxidant compounds has been proven to boost the immune system.
3. Help clean out toxins
With kidney disease, there are many toxins in your body, which can lead to poor appetite, nausea, vomiting and itchy skin and so on. The fiber in kiwi is capable of moving toxins from your body to alleviate your complications caused by renal disease.
4. Good for diabetes
Kiwi is in low category for glycemic index and it is safe for diabetes. If you have diabetes and want to eat kiwi, you can eat it.
5. Reduce the risk of heart disease
The fiber in kiwi is high, which can lower cholesterol levels and in turn reduce the risk of heart disease. It can reduce the mortality of renal disease patients.
Even if kiwi fruit has so many health benefits, you still need to be careful when eating kiwi fruit. Because kiwi fruit contains a measurable amount of oxalates. Oxalates can be concentrated in body fluids, which can cause health problems. Therefore, it is necessary to consult your doctor or our online doctor before eating kiwi.