Does MSG Have A Role In CKD
2014-10-16 08:00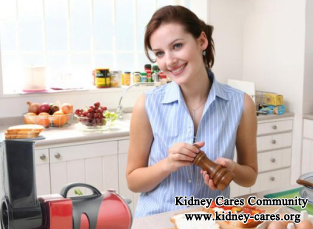 MSG, the abbreviation of Monosodium Glutamate, is used in the food industry as a flavor enhancer. Once people are diagnosed with chronic kidney disease (CKD), they are eager to know what they can eat and what they cannot eat. Recently, one of the patients consult our doctor whether MSG have a role in CKD.
Frankly speaking, CKD patients had better not consume foods containing MSG. Because it is a relatively high sodium substance, while kidney disease patients should follow a low sodium diet and avoid high salted foods. High sodium foods are more likely to worsen kidney condition from the following aspects:
High sodium and high blood pressure
Sodium is essential to our body need. In normal case, the kidneys control the level of salt. If there is too much salt, the kidneys pass it into urine. When kidneys have something wrong, they can not perform this function well. And then too much sodium will build up in your body, causing sodium retention. Besides, too much salt will burden your kidneys and the salt ends up in our bloodstream. Salt attracts water. When there is too much salt in the blood, the salt draws more water into the blood. More water increases the volume of blood which raises blood pressure.
High salt and edema
As we mentioned above, damaged kidneys easily cause sodium retention. For a healthy kidney, glomerular filtration rate is responsible for filtering blood during which sodium can be discharged out. And then the sodium and excess fluid will flow into renal tubule which is able to reabsorb most of the sodium, fluid and other nutrition. However, when glomeruli fail to perform its filtering function or renal tubules become disordered and reabsorb too much sodium, sodium in the body will increase. With high sodium in blood, fluid retention occurs, leading to edema.
From the above two aspects, kidney disease patients should avoid foods with MSG. Which foods contain MSG:
Soup, broths and bouillon blocks
Frozen foods and TV dinners
Salad dressings
Sauces, seasonings and gravies
Most of the menu at fast food chains and restaurants
Chips, and other flavor-enhanced snack foods
For more information on CKD diet, please feel free to consult our online doctor.