Is Lemon Pudding OK For Someone On A Renal Diet
2014-10-08 02:59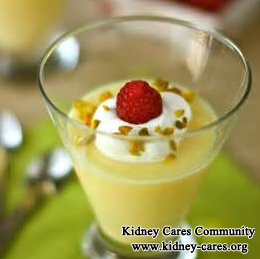 The lemon pudding has a wonderful lemon flavor and it is delicious so that many people like to eat this dessert. However, is lemon pudding OK for someone on a renal diet.
Generally speaking, lemon is OK for someone on a renal diet. However, lemon pudding should be consumed carefully if someone has high blood sugar level in blood because lemon pudding will contain sugar, which may worsen diabetes. Lemon pudding with free-sugar is OK for someone on a renal diet. This will help you fully receive the benefits of lemon, which are listed below.
1. Give a boost to your immune system
Lemon is vitamin C which is like our immune system's jumper cables. A high quality of vitamin C helps in preventing and curing a person having fever or common cold. Besides, lemon is known to be an antibacterial agent. This is good for alleviating kidney conditions.
2. Lower high blood pressure
Lemon contains potassium, a substance that helps to lower blood pressure. High blood pressure is a leading cause of kidney disease and kidney disease will also lead to high blood pressure. They are closely related with each other. So high blood pressure should be kept under control strictly.
3. Good for digestion
Kidney disease patients often have digestive problem. High content of vitamin C in lemons helps in the digestion. It acts as a detoxifying substances which help remove toxins from kidney and digestive system. It also purifies blood, thus making a person healthy.
The above health benefits make free-sugar lemon pudding a proper food for a renal diet. However, for the sake of safety, patients should decide whether they can eat lemon pudding according to their own conditions. For instance, if potassium is high in blood, the person should eat less or avoid eating lemon pudding. You can consult our online doctor or leave us a message to kidneycares@hotmail.com if you do not know whether lemon pudding is good or bad for you.