Is Cashew Nut Good for Patients of Chronic Kidney Disease
2014-10-04 08:57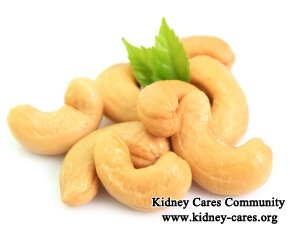 Cashew nut is a kind of kidney-shaped nuts, which does not only taste delicious, but also has rich nutrient values. Is cashew nuts good for patients of chronic kidney disease?
Cashew nuts have some health benefits for CKD patients
-Improve heart health
Cashew nuts contain low fat content when compared to other nuts. And they contain high levels of monounsaturated fatty acids, which help reduce high triglyceride levels so as to reduce the risk of heart disease.
-Lower blood pressure
CKD patients often have high blood pressure. High blood pressure can cause further damage to the kidneys and increase the risk of heart disease. Cashew nuts are rich in magnesium, which helps lower blood pressure.
-Prevent bone disease
Bone disease is also very common among kidney patients. Magnesium in cashew nuts helps build strong bones. Besides, copper in cashew nuts is also vital for the function of enzymes involved in combining collagen and elastin, providing substance and flexibility in bones and joints.
Besides, cashew nuts prevent cancer, reduce the risk of developing gallstones, help digestion, improve sleeping quality, etc.
However, CKD patients should limit intake of cashew nuts.
-Though cashew nuts have so many health benefits, you had better avoid eating so many. Because massive cashew nuts consumption may be allergic, leading to nausea, eyelid swelling, dizzy, etc.
-Cashew nuts is a good source of potassium and phosphorus. If you are in advanced stage of disease, potassium and phosphorus will build up in the blood. High potassium level can cause irregular heartbeat, weakness, etc. High phosphorus level can cause skin itch and calcium deficiency.
Therefore, before you add cashew nuts into diet, you had better consult a dietitian to make sure how many cashew nuts you can eat. If you need our help, please contact online doctor or leave a message below.