Can You Eat Sunflower Seeds On A Renal Diet
2014-09-19 07:01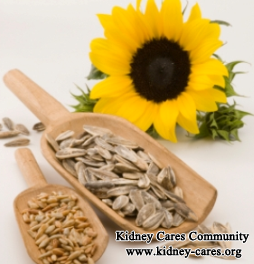 As a chronic kidney disease (CKD) patient, can I eat sunflower seeds? Sunflower seeds have abundant health benefits including removal of free radicals, anti-inflammatory properties, cardiovascular benefits and bone health. From these aspects, we can see sunflower seeds can be eaten on a renal diet. The following will tell you the detailed information of sunflower seeds' health benefits to the kidney disease patients.
1. Anti-inflammatory properties
Sunflower seeds are an excellent source of vitamin E, which is a kind of antioxidant. Vitamin E travels throughout the body neutralizing free radicals that may damage fat-containing structures and molecules like cell membranes, brain cells, and cholesterol. It also helps prevent further kidney damage.
2. Cardiovascular benefits
Vitamin E in sunflower seeds plays an important role in the prevention of cardiovascular disease. Moreover, the presence of chronic kidney disease is an independent risk factor for the development of heart disease. Heart disease is the leading cause of death, so eating sunflower seeds can reduce the risk of heart disease to some extent and also reduce the death rate of CKD patients.
3. Bone health
Magnesium is high in sunflower seeds and it is necessary for healthy bones and energy production. About two-third of the magnesium in the human body is found in our bones. Therefore, magnesium in sunflower seeds is important for bone health. As for people with kidney disease, magnesium in sunflower seeds is able to alleviate bone problems, like bone pain and bone fracture.
Although sunflower seeds have the above health benefits for CKD patients, it does not mean all kidney disease patients can eat them. Sunflower seeds are high in sodium and potassium. Thus, if CKD patients have high blood pressure, swelling and elevated potassium in the blood, they should avoid eating sunflower seeds or restrict eating them. Otherwise, they will worsen their medical condition.
Whether you can eat sunflower seeds or not mainly depends on your own medical conditions. You can consult our online doctor to know whether you can eat them or not.