What Foods Are Bad for Me When I Have A lesion on My Kidney
2014-09-17 03:46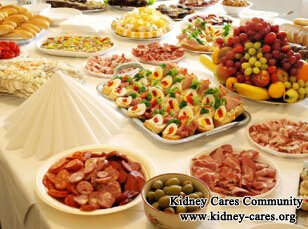 Kidney is a detoxification organ. When food comes into your stomach, it will be digested into nutrients that your body needs and waste produce that body can not absorb. Some of the waste product will be discharged out of the body by kidneys. When kidney goes wrong, waste will build up in the blood, causing further damage to the body. But if you adopt a balanced and renal-friendly diet, there will be less waste to form so as to reduce the workload of kidneys. What foods are bad for me when I have a lesion on my kidney? If you are interested in this topic, please go on reading.
Plant protein
Protein is essential for body to keep its normal function. But almost all plant protein contains nonessential amino acids, which can not be absorbed by the body. Too much intake of plant protein will produce a lot of urea, which can further damage the kidneys.
Food high in salt
The damaged kidneys can not remove the excess sodium from the blood. The sodium can retain water in the body and increase high blood pressure. Therefore, you had better avoid food high in salt, such as pickles and canned food.
Food high in potassium
If your blood potassium level is higher than the normal level, you should avoid food high in potassium, such as bananas, kiwi, dried fruits, etc. Because high potassium level in the blood can cause muscle weakness, slow heart rate and abnormal heart rhythm, etc.
In addition, you should pay attention to the food high in phosphorus, food high in purine, food high in oxalic acid, food high in fat, etc. There are different diet restrictions for people with different medical condition. For more information, please leave your medical condition to us. And then our doctors can help you make a personalized diet plan.