What Food Given to Eat When A Person Has 40% Kidney Function
2014-08-24 03:34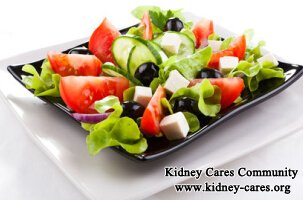 Kidney patients are often asked to have a restricted diet. Because diet plays an important role in slowing down progression to kidney failure and helping you control symptoms. In different stages of kidney disease, there are different requirements. What food given to eat when a person has 40% kidney function? A balanced diet is consisted of protein, carbohydrate, fat, vitamins, etc.
Protein
Protein is a component of body. Enzyme, antibody and muscle are all protein. But it is important to eat the right amount and the right kind of protein to get its health benefits. For kidney patients, they should choose high quality protein like egg white, lean meat and poultry without skin. And the amount of protein intake should be controlled into 0.6 g/kg per day.
Fat
In our body, there is a lot of fat to protect our organs. In the diet, fat can not be avoided as well. But fat consumption may increase cholesterol level so as to increase the risk of heart disease. In fact, there are many kinds of fat. You should avoid saturated fat and eat moderate unsaturated fat, such as fish oil and flaxseed oil. They are very good for health, because they are anti-inflammatory and help lower cholesterol level.
Carbohydrate
Because there is restriction in protein and fat, you should supplement carbohydrates to ensure that fuel is provided. It is also helpful in reducing protein metabolism and improving azotemia. Rice, corn and cereal are all good source of carbohydrate. The acceptable daily intake of carbohydrate should be controlled into 126 -147 KJ/kg.
Vitamins
Vitamins keep the well function of body. Vitamins can strengthen immune system, control blood pressure, help absorption of iron and calcium, etc. Fresh vegetables and fruits are packed with various vitamins, so you should add them into your diet.
The above information is very general. If you would like a personalized diet plan or treatment plan, please leave your basic information below. Our doctors will contact you in 48 hours.