Is Taking Kale Good for Chronic Kidney Disease
2014-07-24 03:42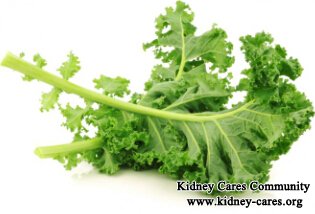 Kale is recognized for its widely health benefits. Is taking kale good for chronic kidney disease (CKD)? The answer is certain. But you should know how to eat kale to acquire its health benefits. Now let's learn more about kale.
Taking kale is helpful for anemia
CKD patients often have anemia, because the damaged kidneys can not secrete enough erythropoietin so as to affect the formation of hemoglobin, the molecule in red blood cells that contains an iron molecule. Kale is a good source of iron, which can improve this condition to certain extent.
Taking kale reduces the risk of heart disease.
Heart disease is a common complication of CKD, which is also the main cause of death for kidney patients. The fiber, potassium, vitamin C and B6 content in kale all support heart health. Because fiber lowers cholesterol level, potassium counteracts the effect of sodium, and vitamin C and B6 can neutralize the free radicals in the body so as to reduce their damage to the heart.
Taking kale protects bone health.
Due to calcium deficiency, many CKD patients suffer from bone disease. Kale is packed with vitamin K, which acts as a modifier of bone matrix proteins. It can improves calcium absorption and may reduce urinary excretion of calcium.
Kale is anti-inflammatory.
CKD is usually developed from inflammation. And CKD patients often joint pain due to joint inflammation. Kale is rich in omega-3 fatty acids, which help fight against inflammation.
Precaution
Because the damaged kidneys can not remove the waste from body effectively, CKD patients should pay attention to the intake of kale to avoid high potassium level. Therefore, before you add it into your diet, you had better consult a dietitian.
No matter what food you take, you should attach importance to the recommended dietary allowance. Only in this way can you benefit a lot.