Can Kidney Patients Eat Spinach
2014-07-18 03:48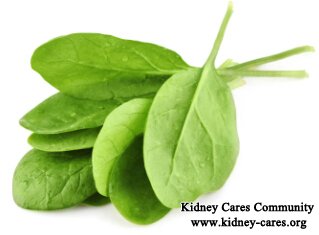 Spinach is kind of vegetable common to see in the daily. And its wholesome nutritional, antioxidants and anti-cancer composition makes it as one of the functional foods. That is why people all over the world enjoy eating it. But can kidney patients eat spinach?
Generally speaking, moderate spinach consumption is good for kidney patients, because it can help kidney patients alleviate some symptoms.
-Inflammation in kidneys is a cause of kidney function impairment for kidney patients. Spinach contains many flavonoid compounds and omega 3 fatty acids, which function as anti-inflammatory agents.
-Anemia is common complication of kidney disease. Spinach is an excellent source of iron, which plays a central role in the function of red blood cells that help in transporting oxygen around the body. So eating spinach is helpful for alleviating anemia.
-Due to calcium and vitamin D deficiency, kidney patients often have renal osteopathy. Spinach is loaded with twice your daily vitamin K needs. This along with the calcium and magnesium in spinach is essential to maintain healthy bones.
-Spinach helps alkalize the body so as to balance PH in the body, preventing acidosis.
-Spinach can also lower glucose levels and increase insulin sensitivity so as to help you control blood sugar level.
-Because the outstanding source of vitamin C and some other antioxidants in spinach can work to keep cholesterol from oxidizing and folate is also good for a healthy cardiovascular system, as well as magnesium, a mineral that helps to lower high blood pressure, eating spinach reduces your risk of heart disease.
Because spinach contains oxalic acid and potassium. Too much intake of oxalic acid increases your risk of kidney stone and over potassium intake may cause hyperkalemia. Therefore, if you want to add spinach into your diet, attention must be paid to the acceptable daily intake (ADI). ADI is made according to your kidney function, symptoms, age, weight and some other factors. A dietitian can help you make a personalized diet plan.