Does Barley Water Help Kidney Disease Patients
2014-07-01 08:20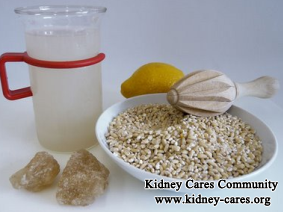 Barley water is a traditional herbal tea in various parts of the world, especially in China. Nowadays, kidney disease is higher experienced by people. Compared to dialysis or kidney transplant, natural herbs are much favored by kidney disease patients due to their safety and effectiveness. The so-called barley water with so many advantages is a very drink for people with kidney disease.
1. Lower cholesterol
The fiber in the barley water is a very effective in lowering cholesterol. In addition, barley contains beta glucan and niacin which both help in lowering cholesterol.
2. Help for digestive health
Digestive problem is a common symptom in kidney disease. Barley water can be used as a remedy for digestive problem like constipation and nausea as well as vomiting.
3. Protect heart
People with kidney disease are more likely to have heart disease than those who have no kidney problem and also the major cause of death among kidney disease patients is heart failure. Barley water helps prevent any heart related disorder including seizure and attacks. So it is very beneficial for heart health.
4. Help cells growth and repair
The root problem of kidney disease is that kidney intrinsic cells are damaged. Barley water can help in cells growth and repair because it contains phosphorus. Additionally, if your lab test shows high phosphorus level in your blood, you should limit or avoid drinking too much barley water. About how much you can drink barley water, you had better consult our online doctor or send your test reports to kidneycares@hotmail.com.
Apart from the above health benefits, barley water also has properties like preventing infection, arteriosclerosis, diabetes, kidney stones and bone health. If you want to learn more natural herbal diet on kidney disease, just feel free to tell me.