Are Green Seedless Grapes Good For People With Kidney Disease
2014-06-26 01:37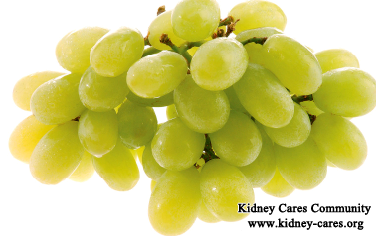 Fruit is an essential part of your daily diet because it supplies essential vitamins and minerals that contribute to good health. Green grapes are a healthy choice and are low in calories, contain zero grams of fat and pack a nutritional punch. However, once people are diagnosed with kidney disease, can they still eat green grapes?
Generally speaking, green seedless grapes can be a diet for renal disease patients. Here we will tell you some health benefits of green grapes from the following aspects.
1. Vitamins in green grapes
Green grapes contain vitamin C and vitamin K. Vitamin C helps prevent infection and also promote the health of your bones and blood vessels. It also has antioxidant properties to protect your body from the damage caused by free radicals which is able to increase your risk of cancer and other chronic diseases. From this aspect, kidney disease patients can eat green grapes.
2. Reduce high blood pressure
Wine is made from grapes and it helps in reducing hypertension. If kidney disease patients are one of those who are suffering from high blood pressure, one glass of wine with your dinner will be beneficial.
3. Protect your heart
Heart disease is a serious complication of kidney disease. Green grapes have the ability to improve the dilation of blood vessels, which may allow blood to flow more easily through blood vessels. Also it has been proven to relax the walls of the blood vessels, thus lowering blood pressure, and allowing a higher volume of blood to flow through all areas of the body, providing increased oxygen and nutrients to the body's cells. Most people do not die from the kidney disease but die from its complications like heart attack, stroke and irregular heart beat.
The above indicate that green seedless grapes can be added to a renal diet. However, it does not mean all kidney disease patients can eat them. If people have high potassium level in blood, they should not eat too much grapes since potassium is high in grapes which may lead to serious conditions like irregular heartbeat, heart attack or stroke. To be safe, you should consult your doctor or our online doctors before eating any fruit.