Are Pumpkin Seeds OK For Chronic Kidney Disease Patients
2014-06-24 01:31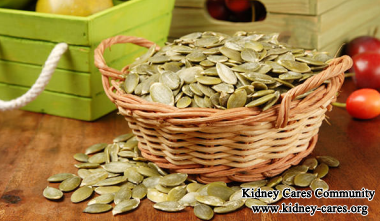 Most people in their leisure time eat seeds to kill their time. However, once people are diagnosed with Chronic Kidney Disease (CKD), they usually have a strict diet requirement. Since different people have different conditions, whether they can eat pumpkin seeds is also uncertain.
Although we cannot give you an extant answer, we can tell you the health benefits and side effects of eating pumpkin seeds by CKD patients.
1. The health benefits of pumpkin seeds
Benefit your blood pressure
Magnesium in the pumpkin has been shown to benefit your blood pressure and help prevent sudden cardiac arrest, heart attack and stroke. High blood pressure and cardiovascular disease are most serous complications of kidney disease and usually cause sudden death. For this reason, people with CKD consuming pumpkin seeds moderately is necessary.
Immune system support
One of the leading factors of kidney disease is low immune system. With low immunity system, bacteria and virus will attack your body and do damages on your kidney intrinsic cells. In this case, kidney disease may occur. Through diet, immune system can be improved. Pumpkin seeds include rich zinc, which is important to your body in many ways like immunity support, cell growth and male sexual function.
Anti-diabetic effects
Diabetes is also a leading cause of kidney disease. Pumpkin seeds may help improve insulin regulation and help prevent diabetic complications. Anti-diabetes is able to reduce the risk of suffering from kidney disease to some extent.
2. Side effects of pumpkin seeds
Although pumpkin seeds have the above health benefits for kidney disease people, they also have some side effects.
Pumpkin seeds are high in fat, which will lead to a heavy burden on kidney and liver. That's the reason why you feel sick after eating too much seeds. Therefore, patients with kidney disease are not suggested to eating pumpkin seeds.
Seeds are also high sodium content. CKD patients should avoid eating high sodium foods so as not to worsen high blood pressure and swelling.
To get your personalized diet, you should consult our experts online. We will tell you whether you can eat seeds or not according to your own conditions.