Is Collard Good for Kidney Patients
2014-06-10 06:45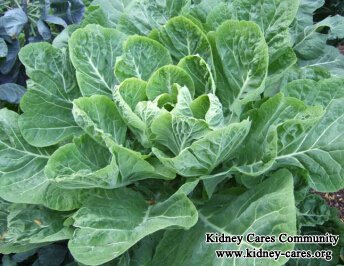 We can get the essential nutrient the body needs from what we drink and eat. Besides, they can also help you control your symptoms. Collard is a common vegetable in the daily life. Is collard good for kidney patients? As a matter as fact, collard has many health benefits if you can eat it properly.
Health benefits of collard for kidney patients
Collard contains rich nutrients, such as vitamin A, vitamin C, vitamin B2 and various minerals like calcium, iron and potassium. It provides special nutrient support for three body systems, namely the body's detox system, its antioxidant system and its anti-inflammatory system. When your detox system improves, it can remove toxins from your body, which can reduce the burden on kidneys. Antioxidant system can prevent radicals from damaging your body and boost your immune system to protect you from various disease. Anti-inflammatory system can help reduce the damage of inflammation to your kidneys.
Besides, the thick leaves of collards are a great source of soluble fiber, which can lower cholesterol level and support digestive system. Rich vitamin K in collard supports bone health by helping your blood to transport calcium throughout your body and calcium in collard helps maintain bone mass, which might reduce your risk of osteoporosis.
Precautions
Collard contains measurable amount of oxalates. These oxalates, when too concentrated in body fluids, can crystallize and lead to kidney stone. Therefore, you should limit the intake of collard if there is severe kidney function impairment.
No matter what food you consume, you should pay attention to the acceptable daily intake. Diet plays an important role in slowing down the progression to kidney failure. If you have any doubt in how to eat healthily in the daily, please feel free to contact online doctor.