Can You Eat Cheese On A CKD Diet
2014-06-09 06:48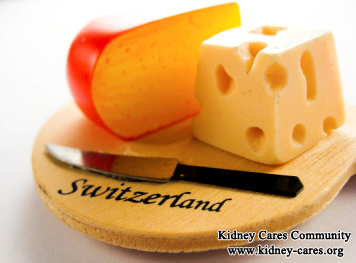 Food is indispensable in people's life. If you suffer from Chronic Kidney Disease (CKD), diet plays an important role in your medical conditions. Cheese is a kind of dairy product and very nutritious. Can CKD patients eat cheese?
Being rich in calcium, vitamin A, phosphorus, vitamin B12 and protein, cheese is definitely good for health.
1. Cheese is good for bone health.
Kidney disease patients usually have bone problems due to low calcium in their blood. Cheese is a rich source of calcium and vitamin B. Both of these nutrients help strengthen the bones. Osteoporosis also can be prevented by high calcium level in cheese. In this case, cheese can be a CKD diet.
2. Regulate blood pressure
As mentioned above, cheese is a very rich source of minerals such as calcium, iron and potassium. Potassium and calcium have the function to help regulate the blood pressure. High blood pressure is a leading cause of kidney disease and also leads to cardiac problems of an individual. In addition, iron is helpful for producing red blood cells which carry oxygen throughout the whole body. Enough red blood cell production can alleviate anemia in kidney disease patients.
Although cheese has some health benefits for kidney disease people, it also has some bad benefits. For example, saturated fat found in cheese is considered a primary cause of heart disease. Heart disease will speed up the mortality rate and be very life-threatening. Besides, sodium is high in cheese. Sodium is harmful for high blood pressure and swelling. In this way, CKD people with high blood pressure and swelling should avoid cheese and other high sodium foods such as potato chips, salt soy sauce, steak sauce and canned foods, etc.
In summary, there is no exact diet principle for every individual because medical conditions vary from unit to unit. Whether you can eat cheese chiefly depends on your present conditions. Therefore, tell our experts about your conditions, and we can tell you if cheese is good for you.