Is Spinach Bad For Kidney Disease Patients
2014-05-25 02:03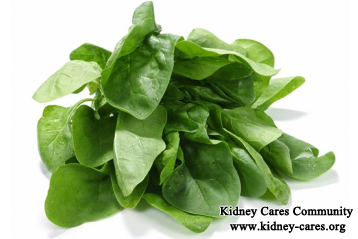 Are Kidney disease patients OK to eat spinach? Spinach is a winter super food and it is full of nutrients and delicious taste. Generally speaking, although spinach will not cause any type of kidney damage, you may need to be careful with this vegetable if you have existing kidney disease or a history of kidney stones.
Why is spinach bad for kidney disease patients?
Spinach contains high potassium. If kidney disease patients have high potassium level in blood, eating this high potassium food may be dangerous. The declined kidney function causes potassium accumulation in your blood stream. In this condition, high potassium level will affect your heart rhythm. Although spinach is unlikely to damage your kidneys and even to cause kidney failure, you still need to restrict the intake of this vegetable and other high potassium foods if you have advanced kidney disease. From this aspect, kidney disease patients should not eat this high potassium vegetable.
In addition, spinach may also cause kidney stones. This is because spinach is high in oxalate which has a tendency to bind to the mineral calcium. When oxalate combines with excess calcium in your kidneys, it can form hard, yellowish compounds called kidney stones. In severe cases, they can become as large as golf balls, cause severe back or abdominal pain, including vomiting. This can also lead to a fever or result in bloody urine.
If you have existing kidney damage or a risk of kidney stone, you should be cautious to eat spinach. However, it does not mean all kidney disease patients cannot eat spinach. If you have no elevated potassium level or any symptoms of kidney stone, you can eat spinach. In this condition, you can consult your doctor or our online experts to know whether you can consume spinach or not.
Our Treatment Effect
High creatinine level is dangerous to a kidney patient
Move the mouse to enlarge the picture
If you also want to reduce your high creatinine level, please look at this patient's report. When he was just hospitalized in our hospital on Dec 11, 2018,
His creatinine:1028umol/L,
urea: 39.7mmol/L
UA : 513umol/L
After a period of our treatment,
his creatinine:331umol/L, urea:16.1mmol/L
UA :325umol/L on Jan 5, 2019.
His condition was getting better and better. You can also get better.
For a CKD patient, you can choose Chinese medicine treatments to control your condition. your creatinine level can be reduced radically, symptoms can be alleviated and more importantly, your renal function will be improved. In this way, you can stay away from end stage kidney disease and avoid dialysis.