How Does Nuts Affect Your Kidneys
2014-05-20 01:58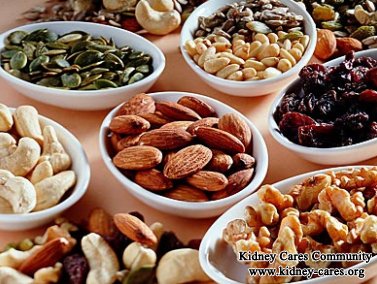 A Harvard study has shown that eating nuts may make you live longer. Regular nut eaters are less likely to die of cancer or heart diseases. In fact, they are less likely to die of any cause. In view of this, kidney disease patients can also eat some nuts properly and get benefits from the nutrients in nuts.
Nuts usually are good for patients with the following benefits:
1. Omega-3 fatty acids
Actually kidney disease patients die from its complications more than the disease itself. A common complication is heart diseases. So making a good food choice which helps fight against heart diseases is very important. Nuts are just this kind of food, as omega-3 fatty acid in nuts help protect against irregular heart rhythms, a problem that leads to heart attack and lower levels of triglycerides. Blood triglyceride is a type of fat, which is an important indicator of heart health. With high level, it increases the heart disease risk. Nuts eaters with kidney disease will reduce the incidence of heart problems and live longer than those with heart diseases.
2. Fiber
Kidney disease patients usually suffer from constipation due to fluid limitation and deficient fiber intake. Nuts are an excellent source of soluble fiber, which normalizes bowel movements, lowers blood cholesterol and glucose levels. They are also low on the glycemic index, which is thought to help reduce the risk of developing type 2 diabetes.
3. Antioxidant properties
Nuts are an source of vitamin E, a powerful antioxidant, which helps prevent damage to body tissues and red blood cells. In addition, vitamin E is also good for proper immune function, DNA repair, and other metabolic processes. In this way, kidney damage can be alleviated to some extent.
In view of these properties of nuts, they are ok for kidney disease patients as long as people eat them properly.