Chronic Kidney Disease And Cordyceps Sinensis
2014-05-03 00:14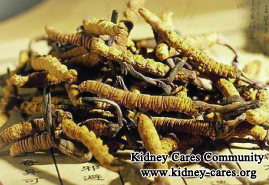 Cordyceps sinensis has been applied medicinally for over 2000 years by doctors in China. Western medicine has not always adequately taken Eastern/herbal/traditional medicine into account. Here we will introduce the health benefits of cordyceps sinensis on chronic kidney disease (CKD) patients.
People much prefer natural herbal medicines to treat kidney disease in contrast to dialysis or kidney transplant. In clinic, cordyceps sinensis has health benefits for CKD patients with the following aspects:
1. Cordyceps sinensis and cardiovascular health
Cordyceps sinensis has several components that is so good for the heart and blood vessels. Cordyceps is good for a regular heart rhythm, lowering cholesterol, inhibiting the clotting of platelets, anti-inflammatory and antioxidant effects as well as improving blood flow to the heart muscles. Usually kidney disease patients are prone to die from cardiovascular diseases than kidney disease itself. Cordyceps sinensis is able to reduce the risk of cardiovascular disease, thus decreasing the mortality of CKD patients.
2. Cordyceps sinensis nourishes yin and boost yang
Cordyceps is a tonic in traditional Chinese medicine that nourish the yin which stands for structure and strengthen yang that stands for function. With this function, cordyceps can stimulate and strengthen the immune system when it is weakened and inhibit and regulate the immune system when it is out of balance such as stress, autoimmune diseases like IgA Nephropathy and Lupus Nephritis.
3. Cordyceps sinensis treatment for illness of the kidneys
Cordyceps sinensis is used in Asian countries to treat kidney disease. The fungus protects the kidneys from damage oxidative stress and inflammation and deterioration of kidney function. Consuming 3 to 5 grams of cordyceps per day plays a significant improvement of renal function.
4. Cordyceps sinensis effects on glucose metabolism
Numerous studies have shown that cordyceps sinensis helps in preventing diabetes type 1 or diabetes type 2 and provides improvements in the insulin sensitivity. Cordyceps sinensis can improve glucose metabolism in diabetics and people with a higher risk of diabetes by insulin resistance.
Chronic kidney disease patients can benefit a lot from cordyceps sinensis with the above health benefits. Furthermore, cordyceps sinensis also has other functions like treatment for chronic inflammatory diseases and infectious diseases as well as sexuality and fertility. If you want to learn more its health benefits, you can leave your message to kidneycares@hotmail.com or the below box.