Is Aloe Vera Juice Good For Chronic Kidney Disease Patients
2014-04-23 01:52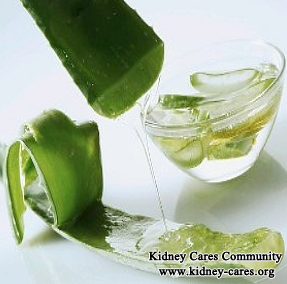 Many people already know the many benefits associated with using aloe vera. Not all people are aware of the health benefits associated with consuming aloe vera juice. Aloe vera juice is not only good for healthy people but also beneficial for unhealthy people. That is to say, Chronic Kidney Disease (CKD) patients can also benefit from aloe vera juice.
Here we will introduce some health benefits for CKD patients.
1. Immunity boost
Aloe vera juice contains many antioxidants that fight the free radicals found in our bodies. Drinking aloe vera juice on a regular basis, and your body will have the antioxidants it needs to fight these free radicals and boost your immune system.
2. Anti-inflammation
Inflammation or infection is a common cause of kidney disease. In this case, aloe vera has 12 different substances which are able to reduce and prevent inflammation. This helps reduce the risk of suffering from kidney disease. It also can help with swollen, stiff or painful joints.
3. Cardiovascular health
Some research has shown that aloe vera contains nutrients that can regulate blood pressure, improve blood oxidation and circulation, lower cholesterol and make blood less sticky. All of these are good for cardiovascular health and reduce the mortality of patients with kidney disease.
4. Aloe helps with digestion
Poor digestion is related to kidney disease. A properly functioning digestive tract is one of the keys and foundations of health. Aloe is able to soothe and cleanse the digestive tract and help improve digestion. It has been a great remedy for CKD patients with problems such as irritable bowel syndrome.
5. Aloe helps in detoxification
Aloe vera is a gelatinous plant food which will help the proper elimination of waste from your body and help the detoxification of your body. Wastes elimination is good for alleviating related kidney disease symptoms like itchy skin, poor appetite and fatigue.
The above health benefits of aloe vera are good for CKD patients. However, you should also know aloe vera has some precautions and side effects, such as risks of diarrhea, electrolyte imbalance and interactions with drugs. For proper dosage and correct treatment, you had better consult your doctor or our online experts before drinking aloe vera.